This recipe is so easy to make, I wouldn't even really call it a recipe!
Just deliciously juicy apple slices wrapped in crispy puff pastry — yum!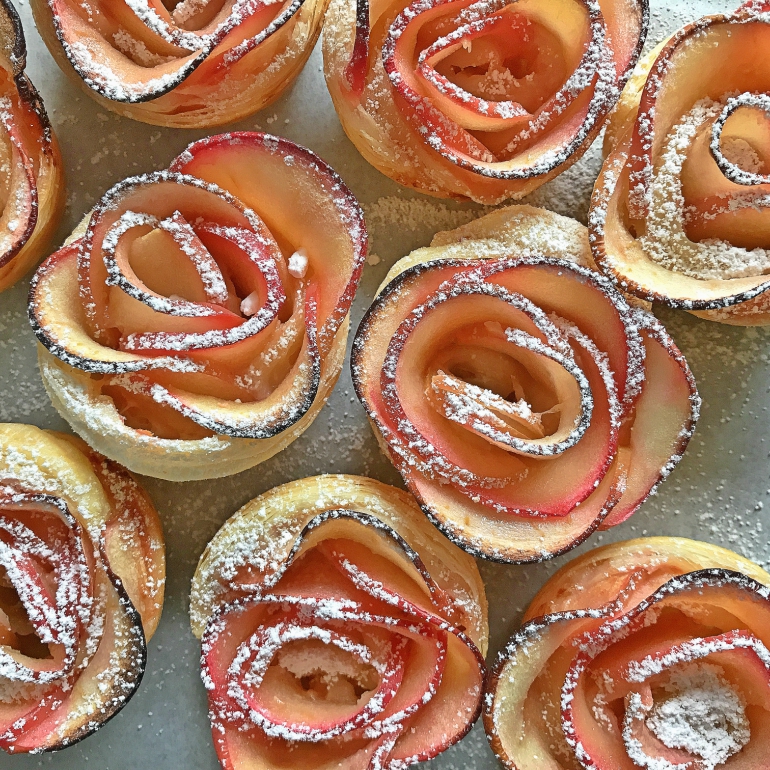 For years I have run across pictures of these beautiful and artsy-looking apple rose puff pastry treats on Pinterest and I've never actually gotten around to making them. Last weekend, however, Wait and I wanted a temporary cure for our sweet tooth and I raided the kitchen for ingredients I could use. I ended up with a package of puff pastry and apples. So, apple roses it was and oh my they were great! They're so easy to make and SO delicious! A recipe right up my alley!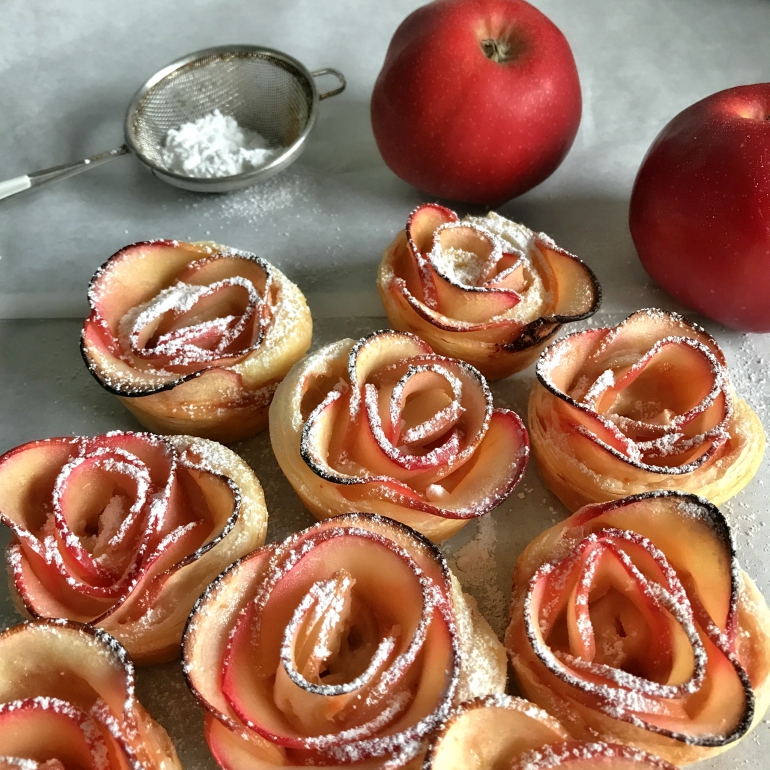 Ingredients
1 sheet of puff pastry, thawed

2 red apples

juice of one lemon

preserve

cinnamon

powdered sugar
Instructions
1
Thaw the puff pastry at room temperature.
2
Preheat the oven to 375°F.
3
Fill a bowl with water and the juice of one lemon.
4
Wash the apples and cut in half. Remove the core and cut the apples in thin slices.
5
Place the apple slices into the bowl to preserve their fresh color.
6
Put the bowl with the sliced apples in the microwave for about 5 minutes, or until the slices are softer and easy to roll. (Of course you can also do this on the stove top, but it'll take a little longer)
7
Unfold the puff pastry and use a rolling pin to stretch the dough a little thinner.
8
Cut the dough in 9 strips.
9
Spread a thin layer of preserve on each strip of puff pastry.
10
Drain the apples and place the slices on the puff pastry, overlapping by half (as shown in the pictures).
11
Sprinkle with cinnamon and fold the bottom part of the puff pastry up.
12
Carefully roll the dough, while keeping the apple slices in place.
13
Place the roses into a greased muffin tin.
14
Bake at 375°F for about 45 minutes, until they are fully cooked and the puff pastry is golden brown.
Notes
If the puff pastry is not fully cooked after 45 minutes, or to avoid burning the apple slices, you can cover them with aluminum foil while baking.