Last Sunday when I met up with my mom to go to the flea market, we also decided we wanted to bake.
Unfortunately, if we don't plan ahead, we are limited to using what we have on hand — all stores are closed on Sundays in Germany.
So, after raiding the cupboards and fridge, we came up with a different take on the black forest cake: A black forest bundt cake.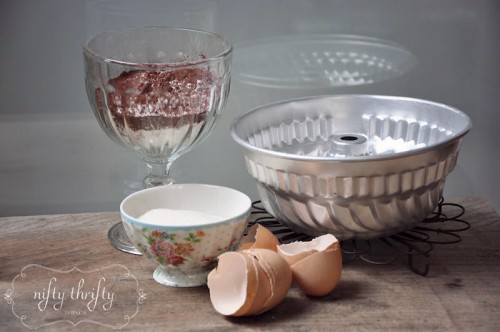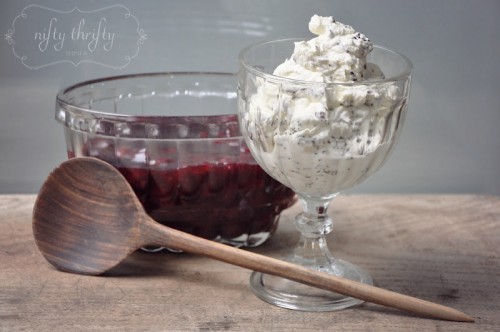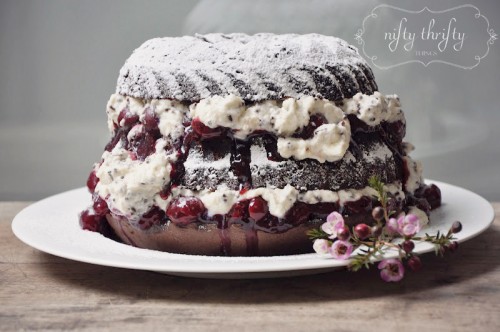 I'm partying here! ♥
{black forest bundt cake}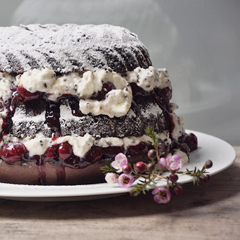 By Vanessa @ {nifty thrifty things} Published:
Yield:

1 cake

Prep:
Cook:
Ready In:
a different take on a delicious black forest cake
Ingredients
5

eggs

3⁄4 cup

sugar

1⁄2 cup

unsweetened cocoa powder

1⁄2 cup

flour

1⁄3 cup

cornstarch

1 tsp.

baking powder

about 1.5 pounds

sour cherries

some

cornstarch

some

lemon zest

some

vanilla

1 1⁄2 cups

heavy whipping cream

1⁄4 cup

sugar

chocolate sprinkles

powdered sugar
Instructions
Preheat oven to 350°F (175°C). Grease and flour (we used cocoa powder) a bundt cake pan.
Separate the eggs. Beat the egg whites with a pinch of salt until stiff.
Slowly add the sugar to the beaten egg whites.
Now add the egg yolks, then add the flour (mixed with baking powder), cocoa and cornstarch little by little.
Bake for 35–40 minutes, or until wooden toothpick inserted in the cake comes out clean. Let cool in pan for about 10–15 minutes. Loosen edges, and remove to cooling rack to cool completely.
Combine cherries, cornstarch, lemon zest and sugar in a saucepan. Cook over low heat until thickened. Stirring constantly.
Stir in about 1 teaspoon vanilla. Cool before using.
Combine whipping cream and sugar in a bowl. Beat at high speed until stiff.
Mix the whipped cream with chocolate sprinkles.
With a long serrated knife, cut the cake in three layers.
Spread the bottom layer with 1⁄2 of the cream and 1⁄2 of the cherry mixture. Top with second layer and repeat.
Cover with powdered sugar.
Enjoy! ;)