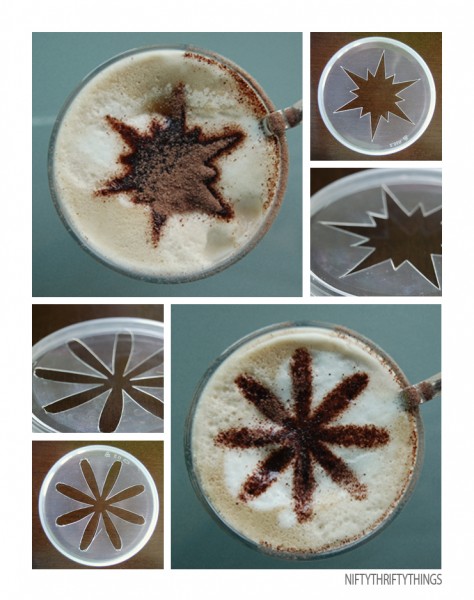 Now, that the weather is getting warmer and warmer and the sky seems to turn a hint more blue every day, the hubby and I have little coffee dates on our balcony every now and then.
We bought a table to match our french bistro chairs and do some people watching form our 4th floor apartment (there's always some action, since we look right down on a tram stop).
Of course it wouldn't be a coffee date without the coffee! Unlike the hubby, I can't stand black coffee and need milk. Lots of it! My favorite is Latte Macchiato — more milk than coffee. ;) It's the best topped with some cocoa or cinnamon!
Here's where the thrifty part comes in: I reused two Pringles lids and cut the shapes with an x-acto knife. I created an easy to cut design in Illustrator, printed it out on paper, laid the plastic lid on top and cut away.
download the template here
Feel free to use the templates, or just create your own by drawing a shape on a piece of paper. :)
The template prints for Pringles sized lids at 100%.
I'm partying here! ♥