Selbstgemachte Müsli-Riegel – das Basisrezept.
Einfach zu machen und mit eigenen Zutaten zu verfeinern.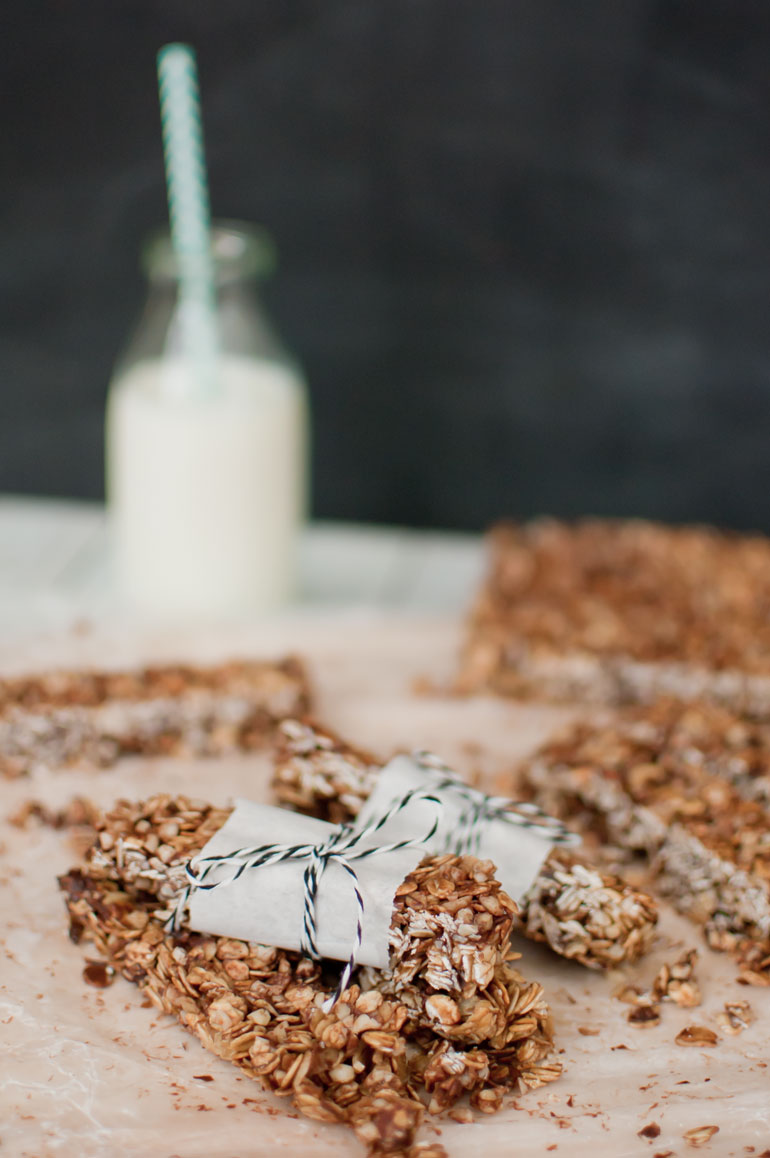 Habt ihr einen Lieblings-Arbeitssnack? Ich habe immer ein paar "Notfall"-Müsli-Riegel im Rollcontainer an meinem Arbeitsplatz liegen.
Sie sind lecker und halten etwas länger vor als Schokoriegel oder anderer Süßkram. Und irgendwie hat man etwas weniger Schuldgefühle wenn man sich für den Müsli-Riegel entschieden hat.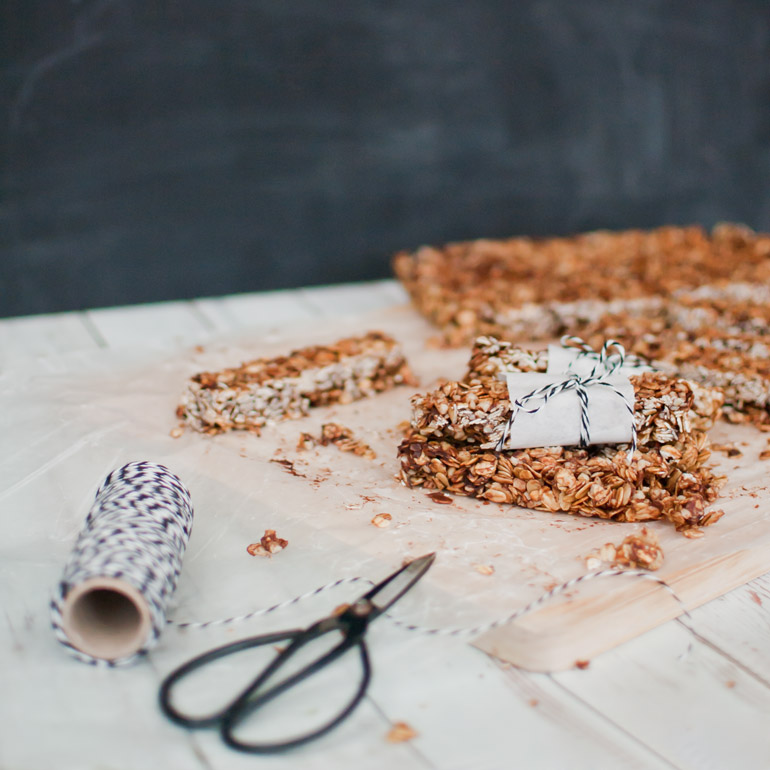 Ich hatte aber schon lange vor meine eigenen Müsli-Riegel zu machen und bin in letzte Woche endlich dazu gekommen. Und das war definitiv nicht das letzte Mal, dass ich diese Leckerei gemacht habe! Sie sind so einfach zu machen, man weiß genau was drin steckt und es gibt unzählige Kombinationen, die man ausprobieren kann.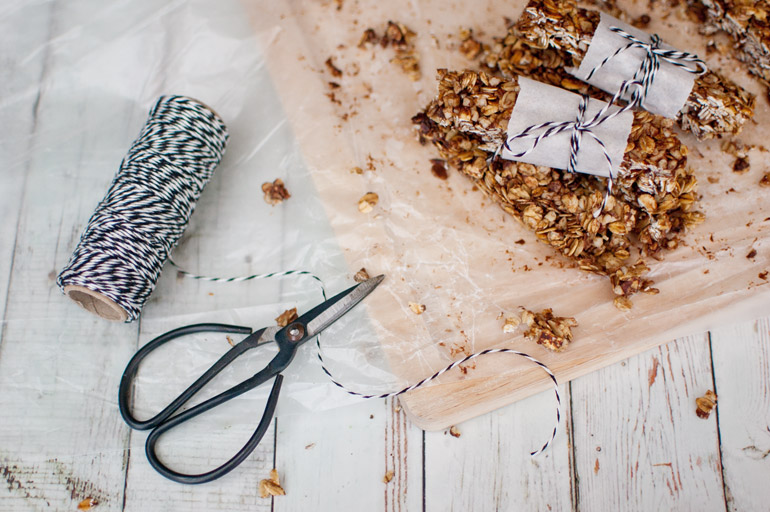 Auf meiner To-Do Liste für weitere Variationen sind:
weiße Schokolade

&

Cranberry
Salzstange

&

Smarties
Erdnußbutter
Schokolade

&

Kokosraspel
Mandelmus
Außerdem möchte ich unbedingt auch die weiche Variante probieren. Soo viele Optionen! ;)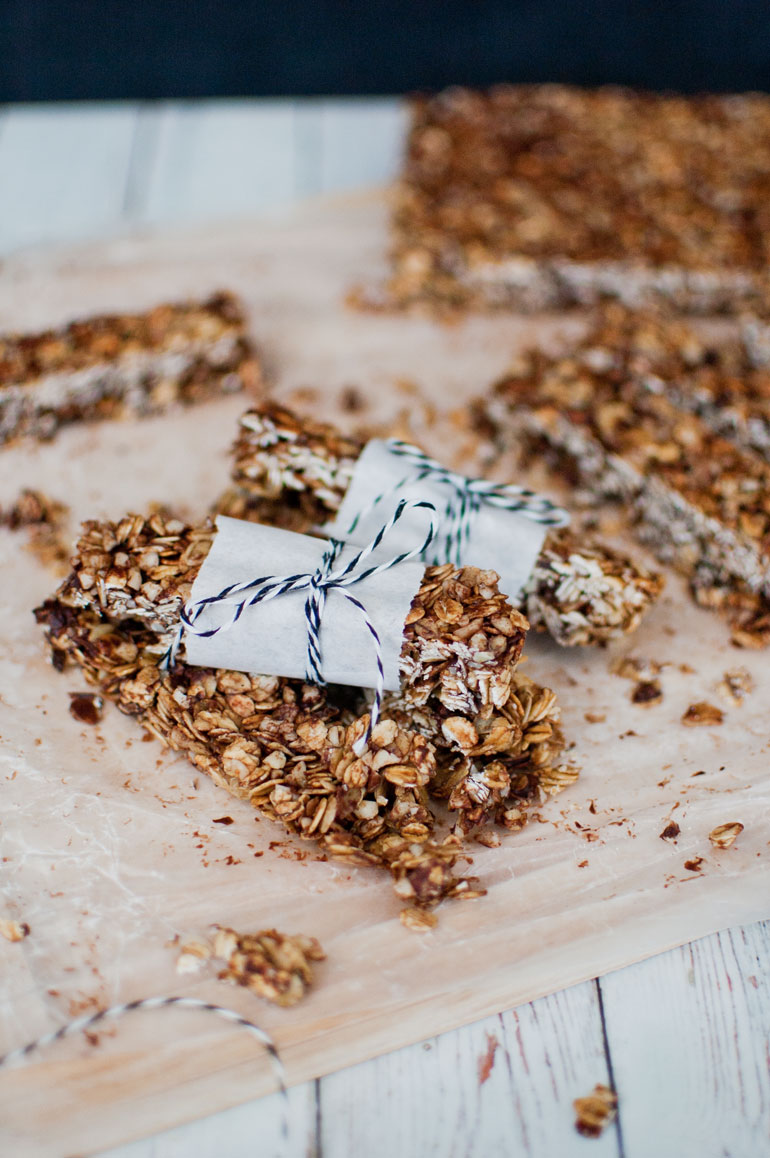 Zutaten
320g grobe Haferflocken

3

EL

Kokosöl
2

EL

brauner Zucker

80g Agavensirup

1⁄2

TL

Vanillepulver
1⁄2

TL

Zimtpulver
1⁄4

TL

Ingwerpulver

1 prise Salz

200g Schokostückchen, gehackte Mandeln, .. ..
Anleitung
1
Den Ofen auf 175°C vorheizen und die Haferflocken auf einem mit Backpapier ausgelegten Backblech für 15–20 Minuten rösten. Zwischendrin ein Mal Umrühren.
2
Das Kokosöl in einem Topf schmelzen lassen.
3
Den braunen Zucker, Agavensirup, Vanille, Zimt, Ingwer und Salz dazugeben und gut verrühren. Köcheln lassen, bis der Zucker komplett geschmolzen ist.
4
Alles, zusammen mit der Schokolade (oder was man beimischen möchte) in einer großen Schüssel vermengen.
5
Eine eckige Kuchenform mit Backpapier auslegen, den Haferflockenmix darüber geben und fest andrücken.
6
Abkühlen lassen und anschließend für mindestens 3 Stunden (am Besten über Nacht) in den Gefrierschrank stellen.
7
Mix everything together in a large bowl and add your add-ins.
8
Place mixture into a square baking form and press down well.
9
Let cool and put in the freezer for at least 3 hours (best overnight).