I don't know about you, but when it comes to deciding what to make for dinner, I'm a loser. I'm not creative with non-sweets and I tend to fall back to those few recipes that I know I can prepare and that are easy to make.. I'm really boring that way..
I've tried planning out my meals before and have failed each time. Somehow not everything makes it on my grocery list and I always forget something, which has me end up going to the store more than once. And that means: more impulse buys — more money spent (and more crap to eat)..

So, when Heather from eMeals contacted me and asked if I wanted to try their services, I jumped on the chance to change my dinner choices and shopping habits! ;)
What exactly is eMeals?
eMeals is an online meal planning website. They offer weekly menu plans, sent right in your email inbox or straight to your phone.
They have several different meal plans, including low carb, low fat, vegetarian and paleo. In addition to the dinner plans, they also offer plans for breakfast, lunch and dessert.
Each meal plan comes with a grocery list, organized by section, so you can stock up on everything you need for the week and save money, since you can use ingredients for more than one meal and reduce waste of throwing out food.
They also let you pick your favorite grocery store (if you happen to live in the US), so you can get the best deals available that week.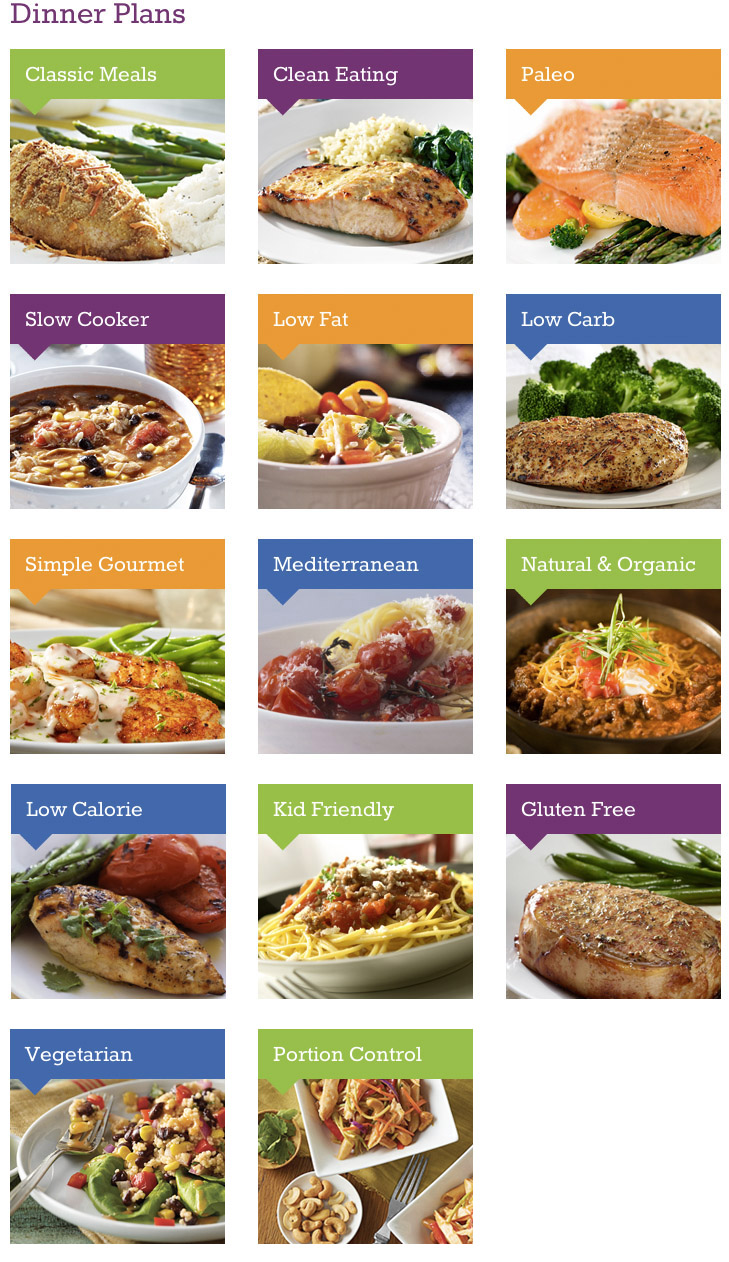 How does it work?
Just pick the plan that's right for you (you can change your mind later on), print your list or save it right to your phone, shop for the ingredients on the list, cook a yummy meal. Enjoy! ;)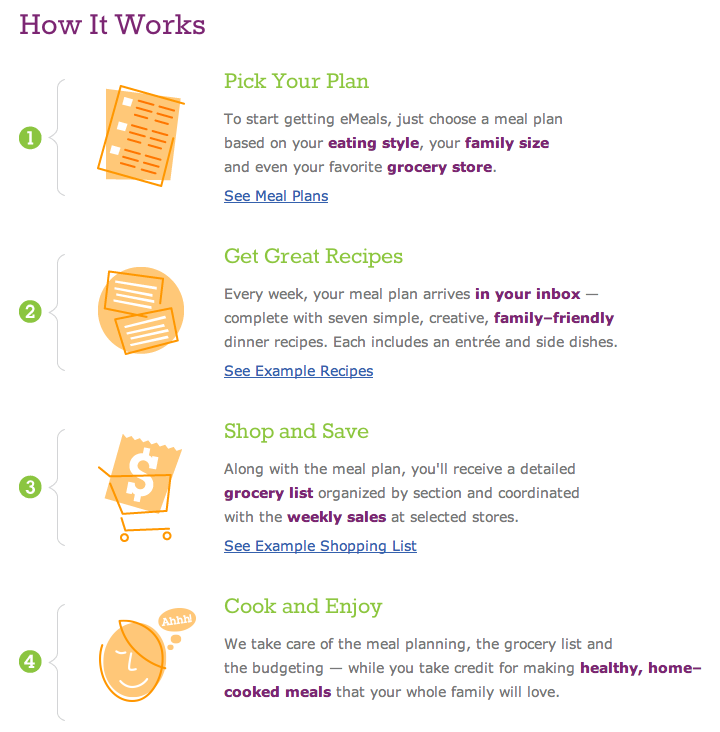 What kind of recipes do they have?
Here are a couple of recipes from their blog (where you can get a lot of inspiration from also):
Clean Eating Berry & Goat Cheese Salad with Toasted Pecans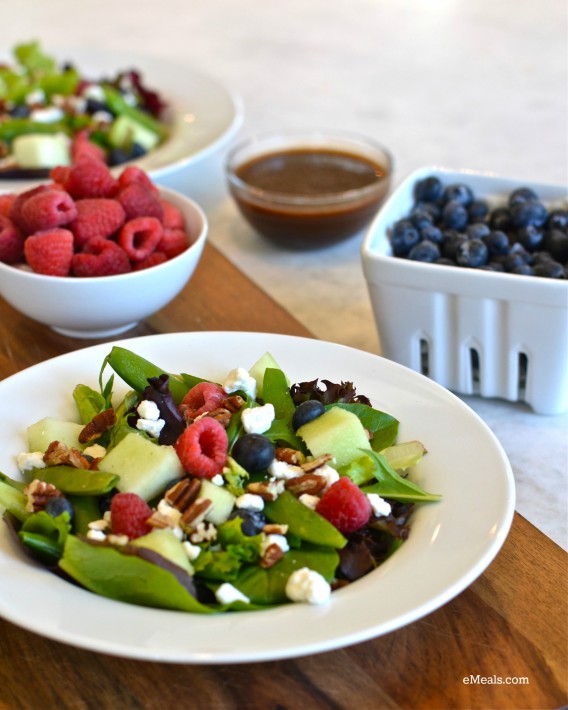 Creamy Beef Tortilla Cowboy Bake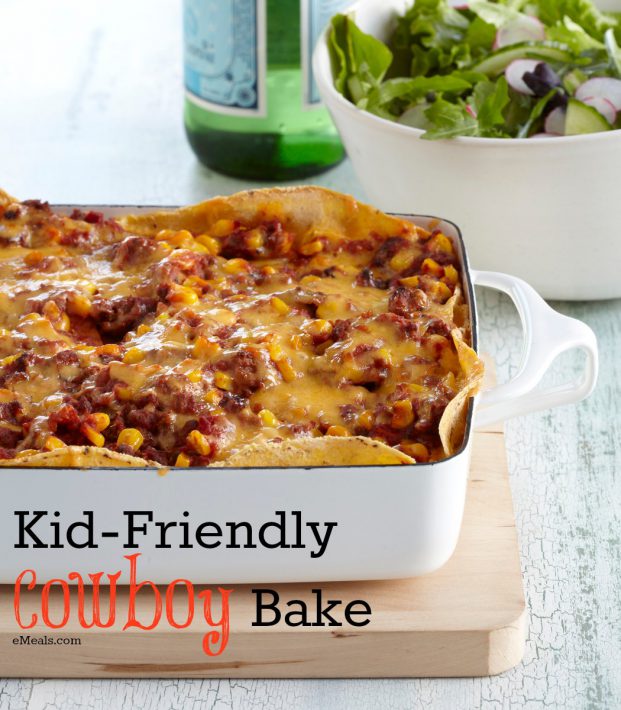 What does it cost?
Classic Family Plan
3 months: $30 ($10 per month)
6 months: $48 ($8 per month)
12 months: $58 ($5 per month)
Weekday Lunches (5 packable lunches)
$4 per month
Healthy Breakfast (5 quick and easy breakfast ideas)
$3 per month
Dessert (3 dessert ideas)
$3 per month
Care for my opinion? ;)
I really think the concept of eMeals is great!
It saves time — by not having have to think about meal planning, writing up grocery lists and possibly having to make several trips to the store (if you're forgetful like me), you can save a lot of time. Just let eMeals take over the planning for you.
It saves money — all ingredients you buy will be utilized in multiple of the recipes, so there is almost no waste. eMeals also works with store sales, saving you even more money. By having a complete grocery list, you also cut down in the number of times you run to the grocery store. That means less temptation for impulse buys: less money spent.
Where can I find eMeals?
Website | Facebook | Pinterest | Twitter | Blog
Want to become a member?
Right now you can save 10% by using the following coupon code: MEALS10
Disclosure: I have been provided with a free 1-year membership to emeals. All opinions are my own.