1 year. 12 months. 52 weeks. 366 days (thank you leap year for the extra day! :) ). Monday is the big day — Ella's first Birthday! This last year passed by so incredibly fast; it was the most intensive, most wonderful and happiest year in our lives. Ella enchants us every day with her contagious smile.
Even though Ella will not remember her first birthday, I think it is important to celebrate — at least with the closest family. It's a big milestone. Our baby won't officially be a baby anymore; she'll be a toddler.
Ella probably won't care if and what she gets (noisy wrapping paper and gift boxes are pretty much all she wants) and yet, it's so much fun to give gifts for the first birthday. Hopefully gifts that will stay with her for some time. These are the gifts that she will get from her grandparents, uncles & aunts and us: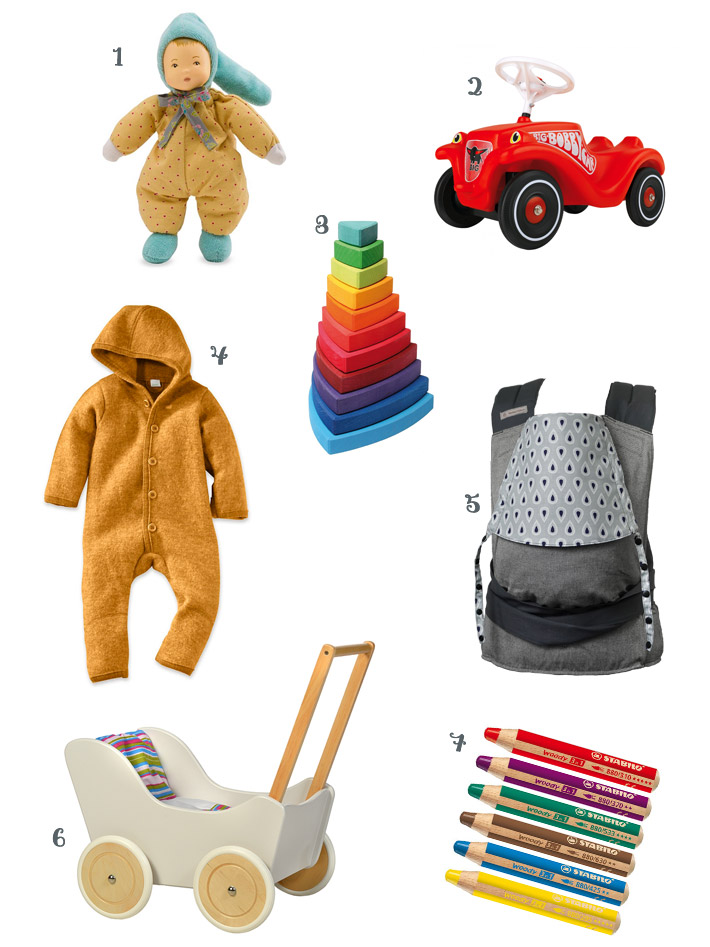 1 Babypuppe — Petit Bebe (from the grandparents in Texas) || 2 Bobby Car Classic — Big (from uncle & aunt)
3 Stacking Tower — Grimm's (from the grandparents in Texas) || 4 Wool Jumpsuit — Hess Natur (from grandma in Germany)
5 Mei Tai Carrier — Fräulein Hübsch (from grandma in Germany — the baby size was too small)
6 Doll Stroller — Kidsmax (from us — bought used) || 7 Crayons — Stabilo (from us)
It was important to us that Ella won't get toys only. She already received so many gifts throughout the year, we don't want it to be a sensory overload. So, we're excited about some practical gifts as well.
I am sure there will be a few more gifts from other family members and friends, but these are the gifts we know of so far.
Now we're excited for the big day and hope that the clocks will turn just a little slower from now on, so we can enjoy our sunshine even more.