Rice Pudding Cake with Cranberry-Raspberry Topping — deliciously fresh and creamy!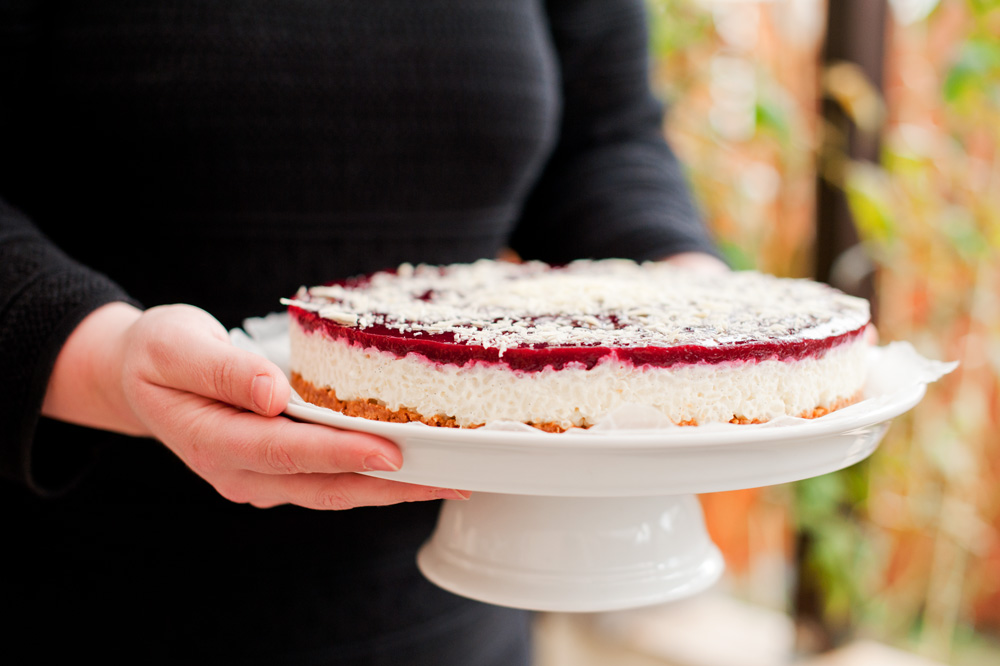 A month ago tomorrow was Ella's first Birthday and we celebrated it with the family the weekend after the big day. My mom was in charge of the baby-friendly cake (a vegan apple cake) and I got to make the sugary treat. A deliciously creamy rice pudding cake with cranberry-raspberry topping.
Both the cakes were a big hit at our little party and Ella enjoyed being celebrated and receiving great gifts from her grandparents, aunt & uncles. If you are wondering what kind of gifts she got, check out this post: gift ideas for the first birthday.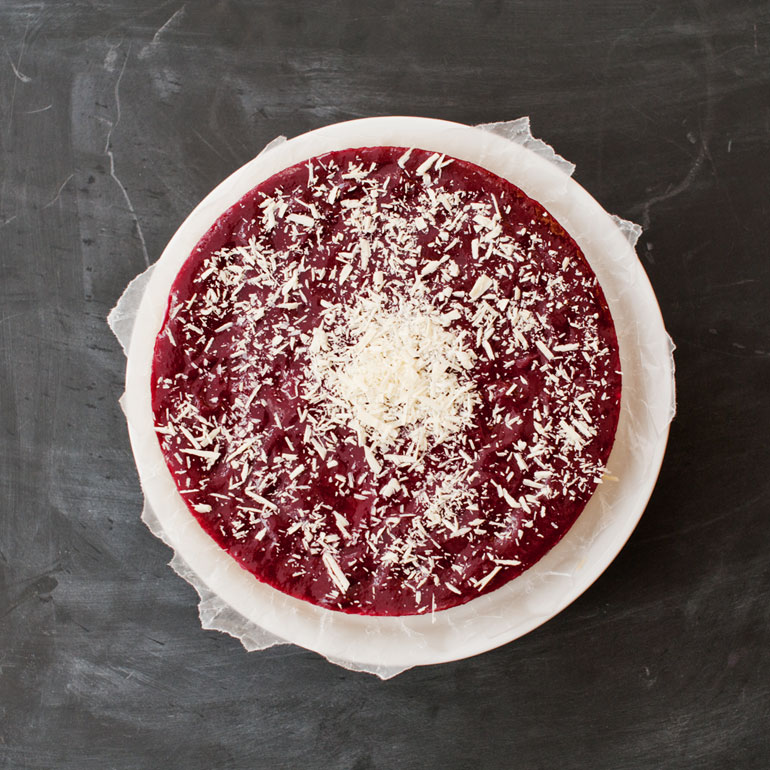 Rice Pudding Cake with Cranberry-Raspberry Topping
Print Recipe
Ingredients
4 1⁄4 cups milk
1 1⁄2 cups short round rice

1 lemon

1 vanilla bean

8 oz Mascarpone

1⁄3 + 1⁄2 cups of sugar

2 oranges

4.5 oz fresh cranberries

9 oz frozen raspberries

cornstarch

1 stick unsalted butter

200g (7 oz) amaretti cookies

some white chocolate
Instructions
1
Peel the lemon with a vegetable peeler. Split the vanilla bean lengthwise and scrape the seeds.
2
Bring the milk with the lemon zests and vanilla bean seeds to a boil. Add the scraped vanilla bean as well.
3
Stir rice into the boiling milk and add a pinch of salt.
4
Reduce heat to low and let simmer for about 30 minutes, stirring occasionally.
5
Remove from heat and take out the vanilla bean and lemon zests. Mix in the mascarpone and 1⁄3 cup of sugar. Let cool.
6
Pour the freshly squeezed orange juice into a pan, add the washed cranberries and bring to a boil. Let boil until the cranberries pop. Add frozen raspberries and 1⁄2 cup of sugar and let simmer for 15 minutes, stirring often.
7
Strain the sauce through a fine mesh sieve, back into the pot, pressing on the pulp to get all the juice.
8
In a small bowl, mix 6 tbsp. water with 3 tbsp. cornstarch and gently stir the cornstarch mixture into the berry sauce. Simmer gently until the sauce has the desired consistency.
9
Crush amaretti cookies with a rolling pin or pan in a ziplock bag. Add melted butter to the crushed cookies and mix well. Spread the cookie crust mixture onto the bottom of a spring pan.
10
Add the rice pudding on top and distribute evenly. Pour the berry topping over the rice pudding.
11
Let the cake cool off for at least 3 hours (best overnight).
12
Make little chocolate curls, using a vegetable peeler and decorate the cake before serving.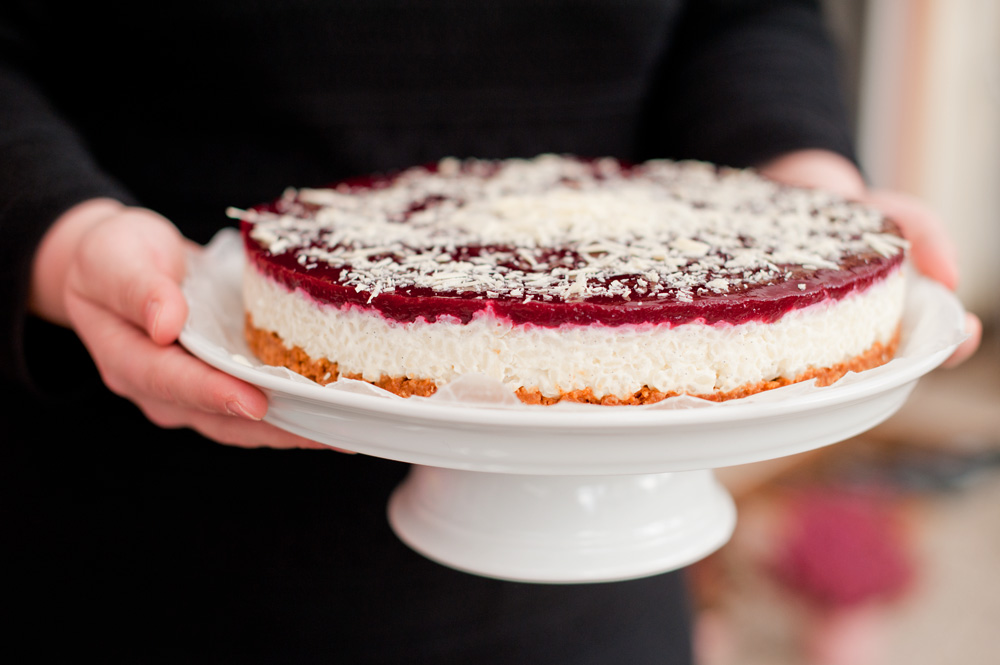 ❤ I'm partying here:
The Creative Circle, Creative Inspirations Linky Party, Artsy-Fartsy Link Party