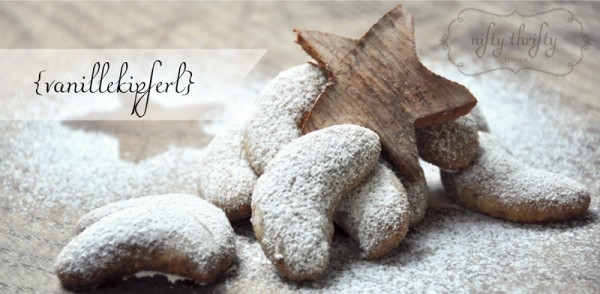 I know most of you probably can't look at Christmas cookies any more without getting a belly ache after all the Christmas goodness.. I decided to still share one of the most delicious recipes I know: Vanillekipferl.
My mom makes these every year and I just couldn't imagine a Christmas Season without them. She was generous enough to share her recipe and photos with us today. Thank you, Mama! :)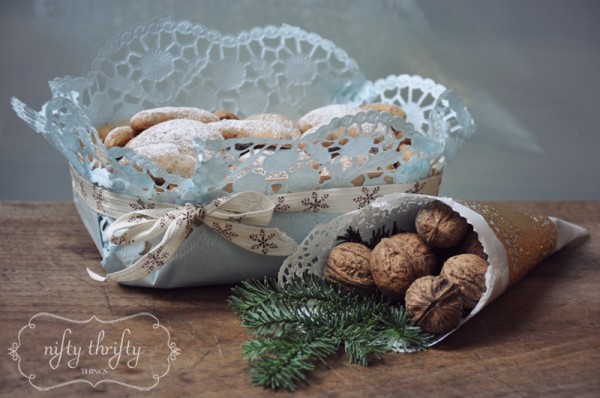 Ingredients
1 1⁄2 cups flour
1⁄3 (generous) cup sugar

1 vanilla bean

3⁄4 cups butter

1 cup almonds

2 egg yolks

1 pinch salt

some powdered sugar
Instructions
1
In a large mixing bowl, combine the flour and salt.
2
Cut the butter in pieces and mix in with your hands.
3
Add the sugar, ground almonds, vanilla and egg yolks and mix into a dough.
4
Divide the dough into two parts and roll into two rolls. Let cool in the fridge for at least 2 hours.
5
Preheat the oven to 320°F (160°C).
6
Cut each of the two rolls into 35 slices.
7
Take each slice and form into a ball, then roll and form into a semicircle (crescent).
8
Place the vanillekipferl on a lined baking tray and bake for about 20 minutes at 320°F (160°C).
9
Sift powdered sugar onto the top of the vanillekipferl while they're still warm.
I'm partying here! ❤